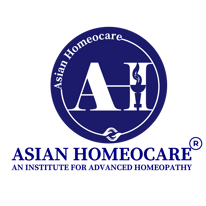 ALLERGIC RHINITIS TREATMENT
Allergic rhinitis, commonly known as hay fever, is an allergic reaction that primarily affects the nasal passages. It is triggered by exposure to allergens such as pollen, dust mites, or pet dander, leading to symptoms like sneezing, a runny nose, and nasal congestion.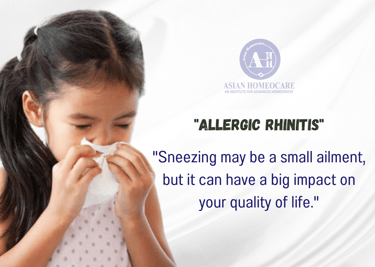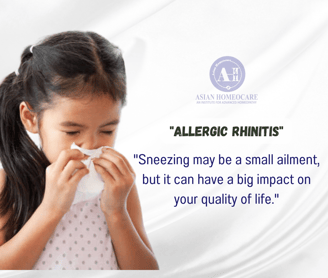 In the conventional allopathic approach, treatments often revolve around managing symptoms through antihistamines and decongestants. However, our homeopathic approach takes a holistic route. We delve deeper to identify the root causes of allergic rhinitis, aiming to rebalance the body's immune responses and provide enduring relief.
Can Homeopathy cure Allergic rhinitis?
Yes, Homeopathy can cure Allergic Rhinitis. Homeopathic medicines help to recover from constant sneezing and running nose and also prevent a recurrence.
Clinic Operating Hours:
Morning: 9:30 AM to 1:30 PM
Evening: 4:30 PM to 8:30 PM
Closed on the 3rd Sunday of every month
Our approach addresses not only the symptoms but also the underlying factors contributing to this condition.
Sneezing- Violent episodes of sneezing with nose congestion

Nose congestion due to developments of Nasal Polyps

Itching – eyes, nose, mouth, throat, skin

Nose block - Sleep disturbs due to nose block

Watery discharge

Headache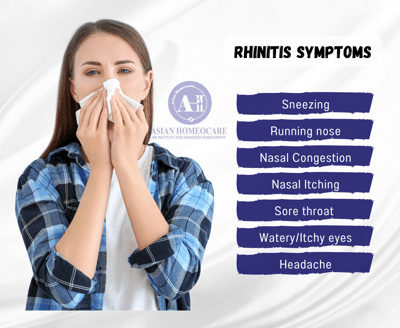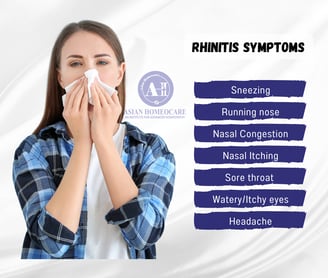 Signs and symptoms of Allergic rhinitis
Hay fever (Seasonal): Caused by an allergy to pollen and/or mold spores in the air. Pollen is a fine powder that comes from flowering plants. It can be carried through the air and is easily inhaled.

Perennial: Caused by other allergens such as dust mites, pet hair or dander, or mold. Symptoms occur year-round.
Types of Allergic rhinitis:
"Explore related diseases: Insights, Stories, and Resources
Immune System Balance: Constitutional Homeopathy aims to restore the immune system's balance and sensitivity, reducing hyperactivity.
Addressing Root Causes: Unlike treating symptoms, homeopathy aims to identify and resolve the underlying causes of allergies.
Effective Allergy Treatment: Homeopathy excels in treating various allergies and allergic disorders by addressing the root cause instead of just symptoms.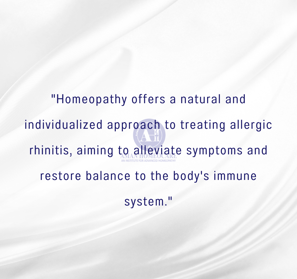 Why Homeopathy for Allergic Rhinitis?
Acute Symptom Management: Remedies manage acute allergic symptoms alongside long-term care.
Safety First: Homeopathy is safe, with no drug side effects, making it a natural choice for allergy treatment.
Allium Cepa: This remedy is derived from onion and is used when a profuse, watery nasal discharge irritates the upper lip and causes a burning sensation in the eyes.

Natrum Mur: When individuals experience sneezing, watery discharge, and a headache triggered by sunlight or stress, Natrum Mur might be considered.

Arsenicum Album: This remedy can be helpful when there is a thin, watery nasal discharge, accompanied by burning in the nose, eyes, and throat.

Euphrasia: If symptoms involve a profuse, acrid nasal discharge and watery, irritated eyes, Euphrasia might be indicated.
Homeopathic Remedies for Allergies: Relief for Allergic Rhinitis
Choose a convenient time by giving us a call or filling out a simple form.
Collect your prescribed medicines within our premises.
We accept cash and various online payment modes.
The first consultation will be given a 1-hour time slot, and for follow-ups, a 15-minute slot.
Can't Visit in Person? Don't Worry, We Offer Online Consultations
Choose a convenient time by giving us a call or filling out a simple form.
We deliver prescribed medicines across India and internationally post-consultation
We accept various online payment modes. Our representatives will guide you through the process.
Consult via Video/Audio call
During the consultation, provide us with complete details about your health concerns
Frequently Asked Questions
Is Homeopathy Safe for Children with Allergic Rhinitis?
Yes, homeopathic medicines are safe for children and people of all age groups. Due to their high dilution, these remedies are free from any notable side effects
Can homeopathy and allopathy be taken together?
Yes, they do not interact or interfere with allopathic drugs. Therefore, in some conditions, doctors may advise continuing allopathic medicines alongside homeopathic medicines.
What should be avoided during homeopathic treatment?
Drinking alcohol, chewing tobacco, and smoking must be discontinued when you are taking homeopathic medicines. Most doctors advise patients not to take coffee, garlic, and onions since these have strong odors and tastes. But it depends on which medicine is prescribed.
What are your specialties?
Unlike allopathy, homeopathy doesn't rely on traditional specialties. Instead, our expertise lies in effectively treating a wide range of health concerns. This includes addressing issues like gastrointestinal disorders, dermatological conditions, allergies, respiratory problems, endocrine diseases, hemorrhoids, and neurological conditions. For a complete list of our services, kindly visit our Services page.
Is sinusitis the same as allergic rhinitis?
No, sinusitis and allergic rhinitis are not the same. Sinusitis refers to inflammation or infection of the sinuses, which are air-filled cavities around the nose, leading to symptoms like facial pain, pressure, and thick nasal discharge. Allergic rhinitis, on the other hand, is an allergic reaction triggered by allergens like pollen or dust, causing symptoms such as sneezing, runny nose, and itchy eyes. While they share some symptoms, their underlying causes are different.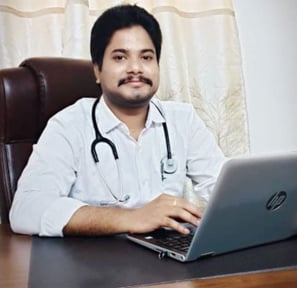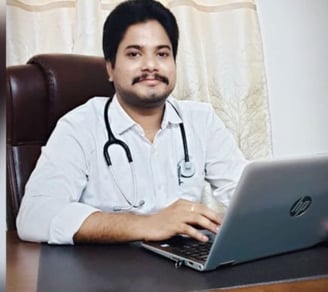 Credentials and Expertise:
🎓 BHMS, MD in Homeopathy
🎓 MCAH
🌐 7 Years of Healing Excellence
Meet the skilled practitioner behind Asian Homeocare, Dr. M V S S Rama Krishna, BHMS, MD, MCAH an accomplished Homeopathic doctor with 7 years of expertise in classical Homeopathy. With a track record of successfully treating numerous patients, Dr. Rama Krishna specializes in dermatological and allergic diseases.
His in-depth knowledge is evident from his thesis on "Gastritis." If you're searching for a Homeopathic doctor near you or in Vijayawada, look no further. Benefit from his experience and a holistic approach at Asian Homeocare for comprehensive healing solutions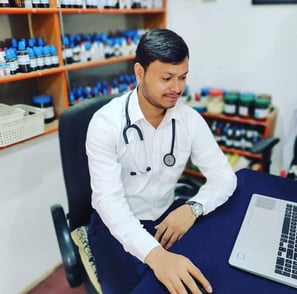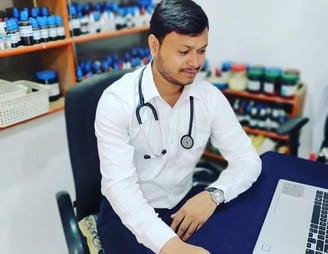 Dr. Channabasayya S Hiremath, BHMS, MD, is a skilled Homeopathic doctor with 7 years of experience in classical Homeopathy. Leading Asian Homeocare in Dharwad, Dr. Hiremath specializes in treating a variety of conditions, including dermatological and allergic diseases. His proven expertise and 7 years of experience make him a distinguished Homeopathic doctor.
His in-depth knowledge is evident from his thesis on "Psoriasis." If you're searching for a Homeopathic doctor near you or in Dharwad, look no further. Benefit from his experience and a holistic approach at Asian Homeocare for comprehensive healing solutions
Dr. Channabasayya S Hiremath
Credentials and Expertise:
🎓 BHMS, MD in Homeopathy
🌐 7 Years of Healing Excellence