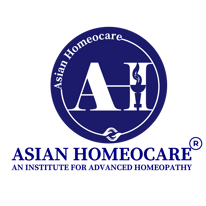 Welcome to Asian Homeocare, your premier Homeopathy clinic nestled in Malamaddi, Dharwad. Under the guidance of the expert Homeopathy doctor, Dr. Channabasayya Hiremath, and supported by a team of highly qualified Homeopaths, we offer holistic treatments for both acute and chronic ailments. Our dedicated approach to healing is encapsulated in our motto, "Care Beyond Compare." If you're searching for a homeopathy doctor near you or a trusted homeopathy clinic nearby, look no further. Experience the difference in our expert care as we strive to provide you with effective, comprehensive healing.
"Expert Homeopathy Doctor Near You | Your Local Homeopathy Clinic"
Meet Our Healing Expert - Dr. Channabasayya S Hiremath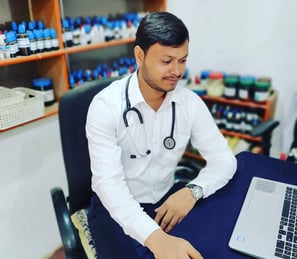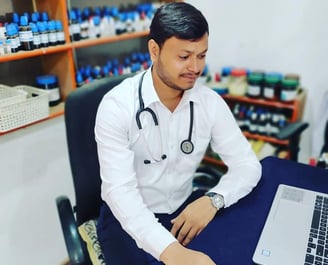 Credentials and Expertise:
🎓 BHMS, MD in Homeopathy
🌐 7 Years of Healing Excellence
Clinic Operating Hours:
Morning: 9:30 AM to 1:30 PM
Evening: 4:30 PM to 8:30 PM
Closed on the 3rd Sunday of every month
Meet the skilled practitioner behind Asian Homeocare, Dr. Channabasayya S Hiremath, BHMS, MD, an accomplished Homeopathic doctor with 7 years of expertise in classical Homeopathy. With a track record of successfully treating numerous patients, Dr. Hiremath specializes in dermatological and allergic diseases.
His in-depth knowledge is evident from his thesis on "Psoriasis." If you're searching for a Homeopathic doctor near you or in Dharwad, look no further. Benefit from his experience and a holistic approach at Asian Homeocare for comprehensive healing solutions
Are you looking for the Best homeopathy clinic near you? Your search ends here. Book an appointment now.
Discover Our Range of Homeopathic Treatments
Know More About Homeopathy
What is Homeopathy?
Homeopathy is a science of medicine that emphasizes the body's inherent ability to heal itself. It is based on the principles of "like cures like" and individualization. Remedies are prepared from highly diluted substances to stimulate the body's healing response.
What are the benefits of homeopathic treatment?
Personalized Treatment: Homeopathy offers personalized treatments, matching remedies with an individual's specific physical, mental, and emotional traits to support the body's natural healing mechanisms for overall well-being.

No side effects: In homeopathy, treatments are designed to avoid side effects by using highly diluted substances that trigger the body's own healing responses, following the principle of "like cures like."

Effective for both Acute and chronic diseases: Homeopathy is effective for various diseases, whether they are short-term or long-lasting, by supporting the body's natural healing processes and tackling the root causes of these conditions.
How does homeopathy differ from conventional medicine?
Homeopathy emphasizes personalized care with highly diluted substances to activate the body's healing, whereas conventional medicine often employs standardized treatments and pharmaceuticals that might lead to side effects.
What to Expect During Your Clinic Visit:
Personalized Consultation: A thorough discussion about your health history, current symptoms, and overall well-being to create an individualized treatment plan.

Holistic Approach: The doctor will consider your physical, mental, and emotional aspects to address the root causes of your condition.

Prescribing a medicine: The doctor will prescribe medication for your condition based on your symptoms.

Follow-up: The frequency of follow-ups depends on the severity of the condition. In acute cases, weekly follow-ups are common, while for chronic conditions, follow-ups are typically scheduled every 15 days or once a month.
Is Online Consultation Available?
Yes, we offer online consultations as well. If you are not able to visit our clinic in person, you can consult with us via Audio/Video call. Following the consultation, we dispatch medicines via courier both within India and abroad.
How Can You Consult with Us?
You have the option of either an in-person visit or an online consultation. Simply make an appointment by either calling us or filling out the form, and we will get in touch with you.
Payment Methods: How Can You Pay?
We accept cash and a variety of online payment methods, excluding card payments. Each transaction comes with a receipt.
Why Asian Homeocare?
Asian Homeocare, being an institute for advanced Homeopathy, offers comprehensive care in the field of Homeopathic medicine, with a focus on accurate diagnosis and advanced Homeopathic medication as its center of excellence
Choose a convenient time by giving us a call or filling out a simple form.
Collect your prescribed medicines within our premises.
We accept cash and various online payment modes.
The first consultation will be given a 1-hour time slot, and for follow-ups, a 15-minute slot.
Can't Visit in Person? Don't Worry, We Offer Online Consultations
Choose a convenient time by giving us a call or filling out a simple form.
We deliver prescribed medicines across India and internationally post-consultation
We accept various online payment modes. Our representatives will guide you through the process.
Consult via Video/Audio call
During the consultation, provide us with complete details about your health concerns
Patient Stories: Hear What Our Clients Have to Say
Frequently Asked Questions
Is Homeopathy Safe for Children?
Yes, homeopathic medicines are safe for children and people of all age groups. Since remedies are highly diluted, they don't have any side effects
Can homeopathy and allopathy be taken together?
Yes, they do not interact or interfere with allopathic drugs. Therefore, in some conditions, doctors may advise continuing allopathic medicines alongside homeopathic medicines.
What should be avoided during homeopathic treatment?
Drinking alcohol, chewing tobacco, and smoking must be discontinued when you are taking homeopathic medicines. Most doctors advise patients not to take coffee, garlic, and onions since these have strong odors and tastes. But it depends on which medicine is prescribed.
What are your specialties?
Unlike allopathy, homeopathy doesn't rely on traditional specialties. Instead, our expertise lies in effectively treating a wide range of health concerns. This includes addressing issues like gastrointestinal disorders, dermatological conditions, allergies, respiratory problems, endocrine diseases, hemorrhoids, and neurological conditions. For a complete list of our services, kindly visit our Services page.
What conditions can homeopathy treat?
Homeopathy can address a wide range of conditions, including allergies, digestive issues, skin problems, anxiety, and more. It's effective for acute and chronic ailments and takes into account the individual's physical, mental, and emotional state.