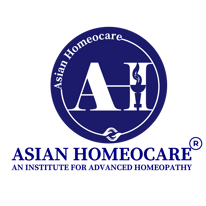 Holistic Homeopathic Treatment for Asthma and Allergy Symptoms
Asthma is a chronic condition that affects the lungs. It is characterized by the recurring inflammation and narrowing of the airways (bronchi), leading to the obstruction of airflow. This obstruction occurs in response to sensitivity to certain allergic or non-allergic factors, making breathing difficult and often triggering recurrent episodes of cough, wheezing, and shortness of breath.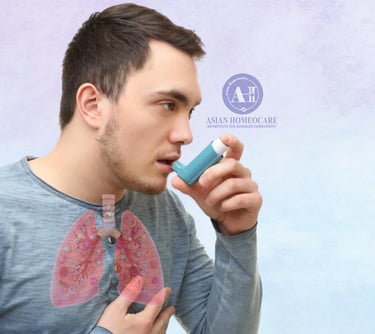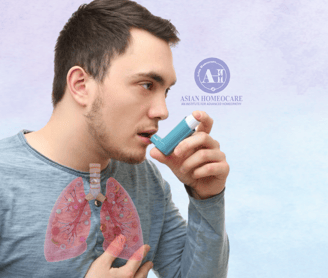 Homeopathic treatments take a holistic approach to asthma, addressing root causes. They stimulate natural healing, reduce inflammation, and improve lung function gently and safely. Unlike conventional medications, homeopathy has minimal side effects, and it aims to prevent asthma recurrences, promoting long-term respiratory health.
Clinic Operating Hours:
Morning: 9:30 AM to 1:30 PM
Evening: 4:30 PM to 8:30 PM
Closed on the 3rd Sunday of every month
Signs and symptoms of Allergic rhinitis
Cough: In asthma, airways are swollen, and the body coughs to remove foreign substances. But coughing can worsen bronchial spasms, causing more discomfort.

Shortness of breath: Shortness of breath is the common and major symptom of asthma. The shortness of breath occurs due to airway inflammation and restriction of space for the free flow of air during respiration.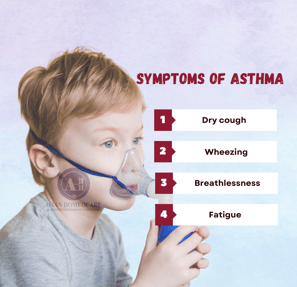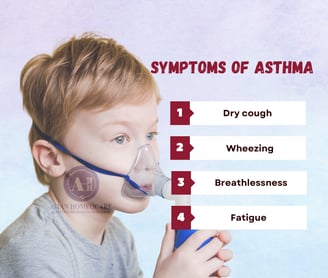 Wheezing or whistling: Sound is produced when the airways are narrowed due to swelling of the inner mucosal lining in addition to the secretion of mucus in it and in that narrow tube when the air is passed it creates a whistling or wheezing sound.

Chest tightness with rapid breathing

Restlessness

Trouble in sleeping - The asthma is generally worsened during nighttime.
Childhood Asthma: Asthma in children is known as childhood asthma. Due to the exposure to different allergens, environmental pollution, exposure to chemicals, genetic factors, food habits, and the misuse of antibiotics, the incidence of asthma is increasing in children from the age group of 1 to 14 years.

Occupational Asthma: Asthma caused due to the occupation of the person is known as occupational asthma. In occupational asthma, the symptoms turn worst while working in a particular place, such as a bakery, chemical factory, farm, laboratory, drug factory, metal or plastic plant, wood factory, painting work, etc.

Seasonal Asthma: When some patients experience episodes of asthma at a certain time of the year, it is known as seasonal asthma. In this type of asthma, symptoms are triggered by things or conditions that are present only at certain times of the year such as pollens, cold weather, cloudy, or rainy weather, etc.
"Explore related diseases: Insights, Stories, and Resources
Family History: A family history of allergies, bronchitis, asthma, or skin diseases can increase the likelihood of developing asthma.
Occupational Factors: Certain occupations that involve exposure to chemicals, dust, or other irritants can increase the risk of developing occupational asthma.
Emotional Factors: Emotional factors like stress and anxiety can exacerbate asthma symptoms.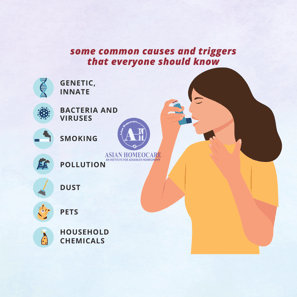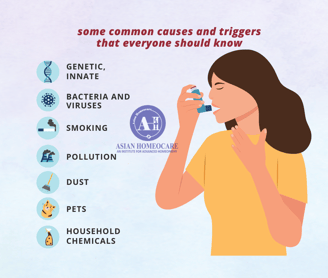 Allergens: Many individuals with asthma are sensitive to allergens such as dust, dust mites, strong odors, pollen, weather changes, and smoke.
Recurrent Lower Respiratory Tract Infections: Frequent lower respiratory tract infections, especially during childhood, can contribute to the development of asthma.
Homeopathic treatment effectively manages the acute symptoms of an asthmatic condition, such as difficulties in breathing, cough, and fever, in a safe and gentle manner.

One of the notable benefits of homeopathy is its ability to address the underlying allergic conditions that often trigger the development of asthma. This holistic approach aims to cure the root causes, reducing the likelihood of asthma recurrence.

Additionally, homeopathic treatment for asthma is renowned for its safety, as it does not produce any drug-related side effects commonly associated with conventional medications.

At Asian Homeocare, we specialize in providing safe and personalized homeopathic solutions for asthma management.
Homeopathy Treatment for Asthma
Arsenicum Album: This remedy is often used for asthma with anxiety, restlessness, and a fear of suffocation.
Ipecacuanha: Ipecac is beneficial for asthma with persistent, constant wheezing and coughing.
Spongia Tosta: This remedy is used for a dry, barking cough and wheezing that worsens with excitement or talking.
Natrum Sulphuricum: Natrum Sulph is recommended for asthma with a rattling cough, excessive mucus, and a feeling of fullness in the chest.
Effective Homeopathic Remedies for Asthma
Choose a convenient time by giving us a call or filling out a simple form.
Collect your prescribed medicines within our premises.
We accept cash and various online payment modes.
The first consultation will be given a 1-hour time slot, and for follow-ups, a 15-minute slot.
Can't Visit in Person? Don't Worry, We Offer Online Consultations
Choose a convenient time by giving us a call or filling out a simple form.
We deliver prescribed medicines across India and internationally post-consultation
We accept various online payment modes. Our representatives will guide you through the process.
Consult via Video/Audio call
During the consultation, provide us with complete details about your health concerns
Frequently Asked Questions
Is Homeopathy Safe for Children with Asthma?
Yes, homeopathic medicines are safe for children and people of all age groups. Due to their high dilution, these remedies are free from any notable side effects
Can I use homeopathy with my Allopathic asthma meds?
Yes, in some cases, it is necessary to use allopathic medicines alongside homeopathic treatments. The doctor will decide after a thorough investigation of your condition.
What should be avoided during homeopathic treatment?
Drinking alcohol, chewing tobacco, and smoking must be discontinued when you are taking homeopathic medicines. Most doctors advise patients not to take coffee, garlic, and onions since these have strong odors and tastes. But it depends on which medicine is prescribed.
What are your specialties?
Unlike allopathy, homeopathy doesn't rely on traditional specialties. Instead, our expertise lies in effectively treating a wide range of health concerns. This includes addressing issues like gastrointestinal disorders, dermatological conditions, allergies, respiratory problems, endocrine diseases, hemorrhoids, and neurological conditions. For a complete list of our services, kindly visit our Services page.
How long does it typically take to see improvements in my asthma symptoms with homeopathy?
The timeline for improvement varies, but many patients experience positive changes within a few weeks to months.
Do you offer remote or online consultations for asthma patients?
Yes, we offer remote consultations for your convenience. Please call us for further details.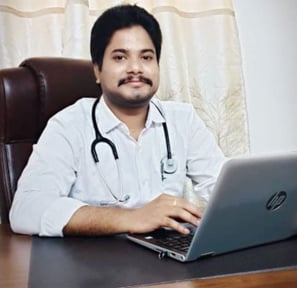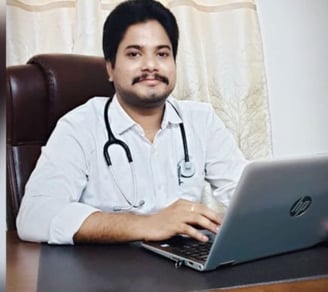 Credentials and Expertise:
🎓 BHMS, MD in Homeopathy
🎓 MCAH
🌐 7 Years of Healing Excellence
Meet the skilled practitioner behind Asian Homeocare, Dr. M V S S Rama Krishna, BHMS, MD, MCAH an accomplished Homeopathic doctor with 7 years of expertise in classical Homeopathy. With a track record of successfully treating numerous patients, Dr. Rama Krishna specializes in dermatological and allergic diseases.
His in-depth knowledge is evident from his thesis on "Gastritis." If you're searching for a Homeopathic doctor near you or in Vijayawada, look no further. Benefit from his experience and a holistic approach at Asian Homeocare for comprehensive healing solutions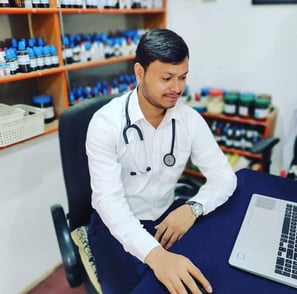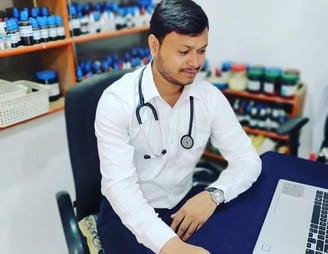 Dr. Channabasayya S Hiremath, BHMS, MD, is a skilled Homeopathic doctor with 7 years of experience in classical Homeopathy. Leading Asian Homeocare in Dharwad, Dr. Hiremath specializes in treating a variety of conditions, including dermatological and allergic diseases. His proven expertise and 7 years of experience make him a distinguished Homeopathic doctor.
His in-depth knowledge is evident from his thesis on "Psoriasis." If you're searching for a Homeopathic doctor near you or in Dharwad, look no further. Benefit from his experience and a holistic approach at Asian Homeocare for comprehensive healing solutions
Dr. Channabasayya S Hiremath
Credentials and Expertise:
🎓 BHMS, MD in Homeopathy
🌐 7 Years of Healing Excellence